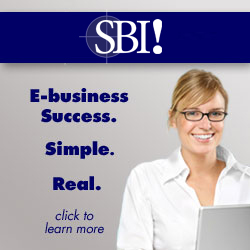 There are a lot of opinions out there regarding SBI vs blogging. Some have even gone as far as to say that SBI is anti-blogging. As an ex-SBI user I have to say that SBI isn't anti anything. But I do see where some people may get the idea. SBI promotes websites almost to the point of annoyance, but that's because that is what they are. For those who are on the fence about whether or not to go with SBI, read on about my experience, why I left it and whether or not I'd go back.
When I first got onto the work at home, bus I started with blogging. It was simple and a good way to learn how to develop content for a niche without the technical hassle. But blogging on a free platform like blogger has the drawback of inflexibility. There are a lot of things you can't do, at least not without some proficient technical knowledge. Thus I wanted more and, after doing some research, decided that SBI was a good fit.
My few years with SBI were pleasant. SBI has a great community of helpful knowledgeable people that will walk with you through the process. This is indeed a very powerful tool for a beginner who is still learning about online marketing. There are several videos and several guides that if you use give you basic fundamental knowledge about building a niche business.
But the action guide, while up-to-date, doesn't provide advanced knowledge about using an online platform to build success. In fact, a number of the things in it I learned while blogging and you can probably Google and get the same information.
SBI likes to pride itself on being some kind of "coach" but the site itself is not fantastic in that regards. It's the forum users who really offer the tips and you can actually gain access to the forum simply by being an affiliate and not buying the package.
Ken provided a lot of different case studies and website examples of different niches, giving confidence to anyone with any niche idea that their website may work. I chose to go with a self help magazine type site and noticed that with SBI it had the potential to be successful. I followed the action guide, hung out in the forum asking and answering questions, and made sure to use as many of the tools as were necessary for my site. Like with anything, it takes time to see success but slowly there was a buildup of traffic, adsense and affiliate revenue and subscribers. So why did I leave?
Something that I wish I had known about SBI before joining is just how tailored it is for people who provide physical or e-products or services. SBI is not the best platform for those who aren't selling something of their own.
As much as it likes to toot about being an infopreneur site, it isn't. For those who aren't selling an ebook, homemade chocolates, or counseling services, SBI can be a difficult money making platform. The reason being most of the tool are geared to those who do more than just provide great content and affiliate products. If I had an ebook and wanted to presell it, then SBI would have been perfect.
But I was simply writing helpful lifestyle content and after a while I noticed my SBI site was getting too cluttered with the information, especially since I was writing every other day. The site was not as easy to navigate anymore and it was getting difficult to manage all that content, especially if I had to update. With SBI, 30 pages seems to be the maximum in terms of content. Ken Envoy says after that you should be looking at simply promoting your site or building another one, and I agree completely. If you plan to create more than 30pages worth of content, SBI can seem small.
Another thing I disliked about SBI is how difficult it actually is to change the template. People say you don't need to be tech savvy to work it, but you do. Because these days with all the vibrant hip looking blog templates, it's essential that your website looks at least close to ranks of "pretty." Users expect more now and SBI was slow to react to what many web readers want today.
I had fresh content on my site, Google liked my site, but my site looked and felt outdated. It didn't have a fresh look or even up to date tools. And updating it wasn't easy anymore. All this made the revenue generation slow. I thought I was alone in this, but noticed that many SBI users had the same complaint of having clunky looking websites with a lack of community building tools.
The biggest thing with SBI however is the expense. It claims that all the tools together would cost more than they charge, but honestly a number of their tools can be found free and are provided by some blog platforms. It was costing me $300 to run a site and learn about web marketing at the same time. If you have your own products some adsense and affiliate programs and are market and tech savvy, you may be able to break even by the time you have to renew. But if you're purely on affiliate programs and aren't a skilled marketer, you can easily get the 2 year blues where you see your site close up sooner than expected.
SBI does have many advantages and it is a good site for those who want a web business. So, if I did have the time to create and manage my own product or service I would choose them over a blog. However, if sharing great content and gaining sponsors or hosting advertising is your main goal, then blogging may be a more economic and easier platform.
If you are looking for great
web hosting
or want more information visit
SBI
today